Tim Cook in London to Talk Apple Watch and Visit Covent Garden Retail Store
Apple CEO Tim Cook on Friday made an unannounced visit to the iconic Apple Store in Covent Garden, a popular shopping and tourist location in London, according to The Telegraph. The chief executive also sat down for an interview with the British publication to discuss the Apple Watch, providing a few more interesting details about the device ahead of Apple's highly-anticipated "Spring Forward" media event on March 9.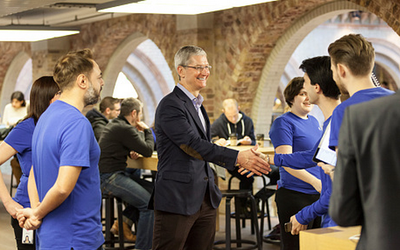 Cook claimed that the Apple Watch will have several features that go beyond timekeeping and health and fitness, such as the ability to replace large car key fobs that come with most current vehicles. "This will be just like the iPhone: people wanted it and bought for a particular reason, perhaps for browsing, but then found out that they loved it for all sorts of other reasons," he said.
The chief executive told Apple retail employees at the Covent Garden store that the Apple Watch will be unlike any other product the company has ever sold before. "We've never sold anything as a company that people could try on before", said Cook. He added that "tweaking the experience in the store" will likely be a requirement when the wrist-worn device launches in April.
During his visit to the Covent Garden store, one retail employee asked Cook what his biggest accomplishment was in the past year. "I'm proud we stayed true to our North Star", replied Cook. "We are pro-privacy, pro-environment and pro-human rights." He added that the Covent Garden location is one of his favorite Apple Stores and praised the retail staff for being such a contributing factor to Apple's success.
Cook has been traveling on an international tour this week, making stops in Belgium, Germany and Israel over the past several days. The chief executive kicked off the week in Belgium to meet with the European Commission, visited the newsroom of popular German publication BILD on Tuesday and traveled to Israel on Wednesday to sit down with President Reuven Rivlin, committing to continued growth in the country.