iOS and Android Combine for 96.3% Smartphone Market Share in Fourth Quarter
The latest numbers from research firm IDC reveal that the smartphone market continues to be a largely two-horse race between iOS and Android, which accounted for 19.7% and 76.6% market share in the fourth quarter respectively. The mobile operating systems combined to dominate Windows Phone, BlackBerry and all other platforms with 96.3% market share during the three-month period ending December.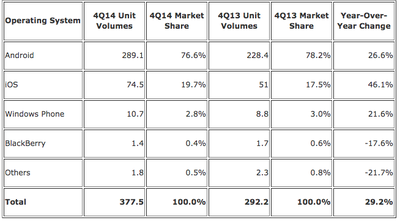 iOS increased 2.2 percentage points to 19.7% during the fourth quarter over its 15.1% market share in the year-ago quarter, while Android experienced a marginal year-over-year decline as its market share slipped from 78.2% to 76.6%. Apple shipped a record-breaking 192.7 million iPhones during 2014 on the strength of the iPhone 6 and iPhone 6 Plus, while overall Android device shipments on the year surpassed the 1 billion mark.


Android and iOS continue to dominate the smartphone operating system race, resulting in a smaller battle between Windows Phone, BlackBerry, Firefox OS and less popular platforms for third place. Windows Phone and BlackBerry were the closest runner-ups to iOS and Android, claiming 2.8% and 0.4% market share in the fourth quarter respectively to close out 2014. All other platforms held 0.6% market share on the year.