Chase: Over 1 Million Wallets Provisioned on Apple Pay
During its investor call today, Chase announced (via AppleInsider) that over 1 million customers have provisioned their credit and / or debit cards for use with Apple Pay. Additionally, the company provided a look at the demographics of its Apple Pay users.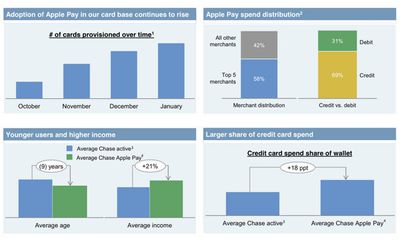 Eileen Sierra, CEO of Chase Card Services, said that its customers who use Apple Pay tend to be young and have higher incomes, with 69 percent of their Chase card Apple Pay transactions credit based.
Sierra also revealed that the financial company has seen "good growth" in the number of its customers provisioning their cards on Apple Pay. Those customers have been using their Chase cards through Apple Pay at the top five merchants 58 percent of the time, with all remaining merchants making up the remaining 42 percent.
While Apple hasn't provided adoption details on Apple Pay, CEO Tim Cook did announce in January that Apple Pay accounted for two of every three contactless dollars spent on American Express, Visa and MasterCard. Bank of America announced in January that nearly 800,000 of its customers were using Apple Pay, and point-of-sale suppliers have seen a massive increase in interest following Apple Pay's launch last October.
Although Apple Pay is having early success in the United States, it has yet to expand past its borders. Reports indicate Apple is in talks with Canadian partners to launch Apple Pay in that country as soon as March, while Visa today announced it would launch tokenization in Europe in mid-April, paving the way for Apple Pay to expand into the continent.