Microsoft Office for iOS Updated With iCloud Drive Support
Microsoft today released an update for its suite of Office apps on Apple's iPhone and iPad App Store for users running iOS 8. The 1.6 updates bring, along with the usual bug fixes and performance enhancements, full support for saving and syncing documents via Apple's iCloud Drive service (via The Verge).
Microsoft says users of its most popular software like Word, Excel, and PowerPoint can now open, edit, and save their work to iCloud as a storage option in the "Places" section of each iOS app.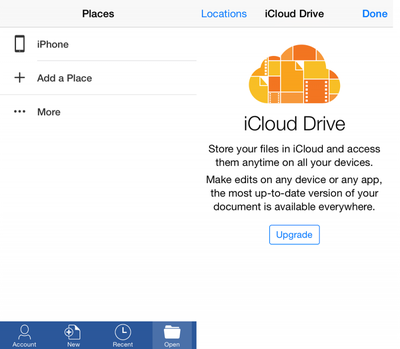 The additional storage method doesn't require users to have an Office 365 subscription and comes as an alternative to Microsoft's own cloud storage option, OneDrive. As pointed out by The Verge, light restrictions on a few file types may hinder iCloud's usage on Microsoft's iOS apps, however.
There's also restrictions on filetypes, so while you can see a thumbnail preview of text in a document created with TextEdit on a Mac (stored on iCloud), you can't access the document or edit it. Overall, it's a fairly basic feature addition, but one that will please (and possibly frustrate) those who use iCloud on a regular basis.
Microsoft most recently added a similar feature to flesh out its iOS offerings with a partnership with Dropbox that let users open, edit, and save their documents using the popular document-saving cloud app. The Word, Excel, and PowerPoint apps launched on the iPhone in early November, bringing free document creation and basic editing to the service.
Microsoft Word [Direct Link], Microsoft Excel [Direct Link], and Microsoft PowerPoint [Direct Link] can all be downloaded from the App Store for free.