Microsoft Adding Dropbox Integration to Mobile and Web Office Suites
Microsoft and Dropbox today announced a partnership that will bring Dropbox support to Microsoft's suite of Office mobile apps. Microsoft will add this new Dropbox feature in upcoming versions of Word, Excel and PowerPoint for the iPhone and iPad.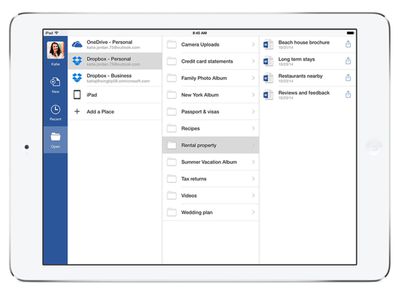 The new Dropbox integration would allow Office users to open, edit and share files that are stored in Dropbox. After adding a Dropbox account to an Office app, users will be able browse their Dropbox contents, which appear alongside OneDrive and locally stored files. All mobile edits will be synced to Dropbox automatically with a sharing option available within the Office app.
Over the coming weeks, we're updating Office apps so that they work with Dropbox, too. With the next updates to Word, Excel and PowerPoint on iPhone, iPad and Android Phone you'll be able to connect to your Dropbox account, so you can access, edit and share your Dropbox files right from your Office apps. Once you've added your Dropbox account to Word, Excel or PowerPoint, you can navigate folders and files on Dropbox for viewing and editing in the native Office apps. And accessing Word, PowerPoint and Excel from your Dropbox app is just as easy. Navigate to the file you want, and the Dropbox app will open the Office app you need.
This collaborative effort is only in the beginning stages, with plans to expand Dropbox integration to other Microsoft products over time. After updating its mobile apps in the coming weeks, Microsoft is planning to add Dropbox support to its Office online web apps early next year.