Microsoft Launches New Office Apps for iPhone, Makes Creating and Basic Editing Free on iOS
Back in March, Microsoft launched dedicated Word, Excel, and PowerPoint apps for the iPad in a first effort to bring Office capabilities to everyone, everywhere. The apps have been highly successful, garnering more than 40 million downloads, and as of today, Microsoft is expanding its Office for iOS suite, offering dedicated Word, Excel, and PowerPoint apps on the iPhone.
While Microsoft's Office apps for the iPhone have been designed with the existing iPad apps in mind, offering full feature parity, the iPhone versions have been built to adapt to the iPhone's smaller interface and optimized to put touch controls first.
All three apps take advantage of an innovative "vertical ribbon" that puts a full suite of editing tools right within thumb's reach at the bottom of the device's screen. Each individual app also has built-in tools to make the viewing experience more streamlined on the iPhone's Retina screen.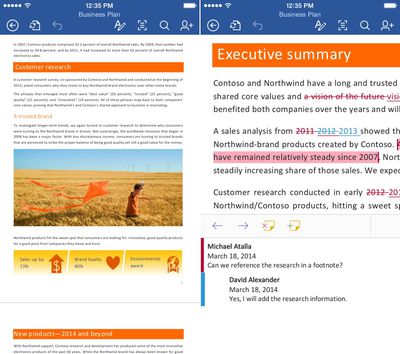 Word for iPhone, main view and review changes view
In
Word
, there's a Reflow button (located at the top menu bar) that shifts to a mobile-optimized view for reading and previewing what's been added to a document, and in
Excel
, Microsoft has focused on making it simple to edit formulas. Tapping on a cell brings up editing buttons and a dedicated formula keyboard.
Excel has a fullscreen view that lets users have an unobstructed view of their spreadsheets, and PowerPoint has similar tools, including the ability to project slides from the iPhone using AirPlay.




Excel for iPhone, main view and Pivot Table view


Today's Office update that brings Microsoft's popular productivity apps for the iPhone also includes new features and functionality for the iPad versions.
In addition to expanding its Office apps to the iPhone and updating its iPad apps, Microsoft has also decided to offer the core Office experience on the iPhone and iPad to all users for free. That means Office users will no longer be required to have an Office 365 subscription in order to access features like basic editing.
Word, Excel, and PowerPoint users on iOS will be able to view, edit, create, and print documents for free, but many advanced editing capabilities will still be reserved for Office 365 subscribers. For example, advanced change tracking features in Word such as accepting or rejecting changes are reserved for subscribers, as are Pivot Tables in Excel and Presenter View in PowerPoint. Office 365 subscribers also get 1TB of OneDrive storage.
Microsoft's Office apps for the iPhone are compatible with the iPhone 5, 5c, 5s, 6, and 6 Plus, and include full optimization for the two larger-screened iPhones. iOS 7 or later is required.
Since releasing Office for iPad in March, Microsoft has added 150 new features. Microsoft's Principal User Experience Manager Han-yi Shaw told MacRumors that the company will continue to aggressively add features in the future, and it is investigating new iOS 8 technologies like Handoff.
Microsoft's updated apps, which are now universal, will be available today from the App Store.
- Microsoft Word [Direct Link]
- Microsoft Excel [Direct Link]
- Microsoft PowerPoint [Direct Link]