iPhone 6s Rear Camera Rumored to Retain 8-Megapixel Sensor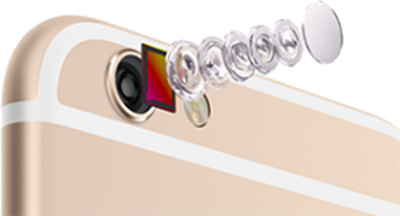 iPhone camera module supplier Largan Precision is expected to face limited earnings growth this year amid rumors that Apple's next-generation smartphone will retain an 8-megapixel rear-facing camera sensor, according to Taipei Times (via GforGames).
The report cites Taipei-based analyst Jeff Pu, who claims the iPhone 6s will have the same camera hardware specifications as previous models. Apple first introduced an 8-megapixel rear camera on the iPhone 4s in 2011 and used similar modules for the iPhone 5, iPhone 5c and iPhone 5s.
Pu said that the camera specifications of the next-generation iPhone, dubbed iPhone 6S, will stay the same as the current iPhone 6 at 8-megapixels, limiting potential catalysts to push Largan's stock price higher in the second half of the year. [...] Pu said that although the migration to 8-megapixel and 13-megapixel lenses would remain strong among Chinese vendors of mid-tier and low-end phones, upgrades to 16-megapixel and 20-megapixel lenses for flagship phones would be slow given the limited supply of CMOS sensors — used to convert light into electrons.
While details surrounding the so-called "iPhone 6s" remain limited, this report is consistent with Largan Precision's stock price dipping early last year amid rumors the iPhone 6 camera would retain an 8-megapixel sensor. Meanwhile, it was reported in November that the iPhone 6s and iPhone 6s Plus could have the "biggest camera jump ever" with a dual-lens, DSLR-quality system.