Apple Seeds Fifth iOS 8.2 Beta to Developers
Apple today seeded the fifth beta of iOS 8.2 to developers, three weeks after seeding the fourth beta and almost three months after releasing the first iOS 8.2 beta.
The beta, build 12D5480a, is available immediately to registered developers as an over-the-air update and it can also be downloaded from the iOS Developer Center. Today's update also includes Xcode 6.2 beta 5 with WatchKit.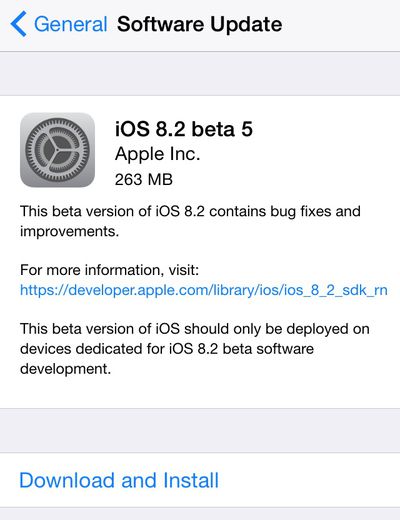 iOS 8.2 includes the WatchKit SDK, allowing developers to create apps, Glances, and notifications for Apple's upcoming wearable device ahead of its 2015 launch. The first iOS 8.2 beta, with WatchKit SDK and developer documentation, revealed several new details about the Apple Watch, including its heavy reliance on the iPhone and the different types of content developers can create for the device.
Update: It appears iOS 8.2 beta 5 fixes a bug that prevented Facebook from working properly. Some early reports have also suggested the beta fixes the "GMT bug" in iOS 8 calendar syncing.