Quad-Core 2012 Mac Mini Mysteriously Reappears on Apple's U.S. Online Store [Updated]
Apple today has mysteriously added back a 2012 model Mac mini to the Apple Online Store for $699. The over two-year-old machine still has the same hardware specifications as it did in 2012, including a 2.3GHz quad-core Intel Core i7 processor, 4GB of RAM and Intel HD Graphics 4000. The listing also shows that the computer ships with OS X Mavericks installed.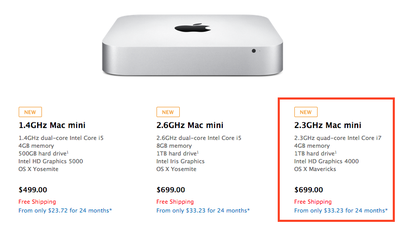 It is unknown if the outdated Mac mini has mistakenly resurfaced on the Apple Online Store, or if Apple intentionally reintroduced the model on its website. One plausible reason that Apple may be making this older Mac mini available for purchase again is to provide customers with a quad-core option, as the existing 2014 models are each powered by dual-core Intel Core i5 processors.
The entry-level Mac is listed as out of stock in the United States, and MacRumors could not find the model listed for sale elsewhere after spot checks of the Apple Online Store in Canada, United Kingdom, Australia, Japan and several other countries. Apple still offers a refurbished version of the same 2012 Mac mini for $589 on its website, although that model is also currently out of stock.
Update 11:30 PM PT: The 2012 quad-core Mac mini appears to have disappeared from the Apple Online Store for the time being. It is unclear if it will officially return or if its appearance was a bug.