Popular free password management service LastPass today is launching a new Mac app to make it easier for Mac users to access their passwords on their laptop and desktop computers. The new LastPass Mac app offers a full-featured vault for storing login information, passwords, credit cards, and more, and it comes equipped with several other useful tools such as Quick Search and Security Check.
Quick Search, one of the Mac app's key features, lets users search for a website or keyword to quickly locate logins, notes, and passwords. Sites can be launched directly from their default browser using a keyboard shortcut, with LastPass filling in the username and password for super quick site logins.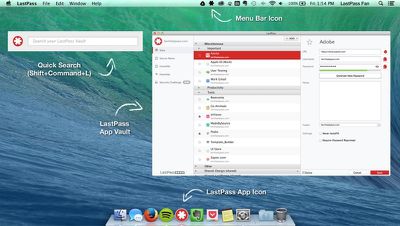 Security Check is another built-in feature of the LastPass Mac app, letting users continually monitor the strength of their passwords to make sure each one is secure enough. LastPass for Mac offers both offline access and automatic syncing between the Mac app and the iOS app.


Before the introduction of the Mac app, LastPass was web-only when used with Mac and Windows computers, offering browser plug-ins for Chrome, Safari, Firefox, and more to access password management features.
"We are living in a time when using the same password across every online account, or storing passwords for critical accounts in an insecure document on your computer, means you will inevitably get hacked. At the same time, memorizing dozens of unique passwords is virtually impossible," said LastPass CEO and Co-Founder, Joe Siegrist. "The LastPass Mac App functions as a vault that safeguards sensitive information. It allows our customers to have convenient local access to their data, saving them the distraction of recalling passwords or manually typing in their login details."
Last month, LastPass debuted Auto-Password Change, a useful feature designed to let users change their passwords for supported sites with just the click of a button.
The LastPass Mac app, much like the LastPass iOS app, will be a free download from the Mac App Store. [Direct Link]
The service is supported by ads, but ads can be removed with a $12 per year subscription fee, which also adds priority tech support and multi-factor authentication.
Update 9:52 AM: LastPass for Mac is now available in the Mac App Store. [Direct Link]