Apple Patents Eye-Tracking Software Feature for Possible Use on Mac and iOS
The U.S. Patent and Trademark Office today granted an Apple patent, originally filed in April of 2012, that deals with eye-tracking technology used to control a user interface on a computer or smartphone (via AppleInsider). The specific invention involves a method for ensuring users do not lose track of a cursor while controlling their devices through eye-tracking movements.
The patent, with inventor credit going to David P. Julian, describes future Mac, iPhone, and iPad devices that could include the new camera technology, allowing movements of a user's eye to translate to the movement of a cursor on screen. The patent doesn't go into deep detail describing any further practical use of the "gaze control" technology, though it does mention in passing the possible use such advancements could have in vehicles, game consoles, and entertainment systems.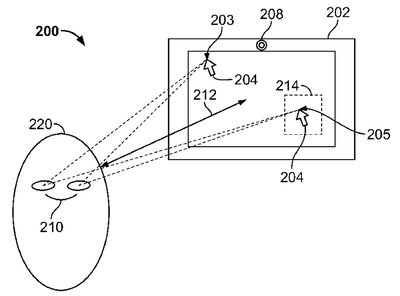 The patent mostly attempts to battle the Troxler Effect, an optical effect that causes objects in the periphery to begin to disappear when a user focuses on a particular point on-screen. This is a particularly troubling issue with retina-tracking technology, which requires a user to focus on various on-screen interface prompts to properly work.
Apple's invention seeks to counteract the Troxler Effect by monitoring eye movements and blinking to estimate when a user is likely to be losing track of a mouse pointer or other cursor due to the effect. The system would automatically move the cursor to bring it back to visibility.
In certain configurations, the eye tracking system may persistently render the movable indicator wherever the user looks in the GUI. This rendering of the movable indicator may be accurate to the degree that the movable indicator becomes a stabilized retinal image with respect to the user's eyes. As such, the movable indicator may fade with respect to the user's perception of the GUI. In other words, the movable indicator may no longer be visible to the user. In such situations, it is desirable to restore the user's perception of the movable indicator to counteract this fading effect. Accordingly, the eye tracking system described herein may automatically alter the position, appearance, or both of the movable indicator so that it is no longer a stabilized retinal image and can be perceived by the user.

A handful of older patents filed by the company have been released by the Patent and Trademark Office as of late, including a transforming home-button-to-gaming-joystick just last week. Like all other patents, the possibility of the eye-tracking tech showing up anytime soon in an Apple product is very slim, but is an interesting glimpse into the company's possible future nonetheless.