Civilization designer Sid Meier along with 2K and Firaxis Games have announced a new game, Sid Meier's Starships, reports Gamespot. The interstellar strategy game was developed by a small team at Firaxis who worked closely with Meier on the game's design.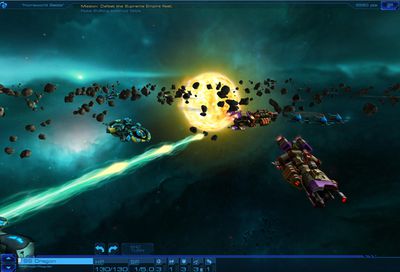 Sid Meier's Starships builds upon the success of last year's Civilization: Earth Beyond, moving beyond the initial colonization of planets to the world of space exploration.
"What happens after we colonize our new home and eventually build starships to take to the stars?" he said. "What has become of our long-lost brothers and sisters from the planet Earth? My goal was to create an experience that focuses on starship design and combat within a universe filled with interstellar adventure, diplomacy, and exploration."
The latest chapter in Sid Meier's game lineup allows users to control a fleet of starships as they journey through the universe completing a variety of missions that expand the influence of their federation. Though specific details were not revealed, Beyond Earth and Starships may share some cross-connectivity that will benefit gamers who own both games.
Sid Meier's Starships
is slated to debut in early 2015 and will be available on the PC, Mac, and iPad. Pricing and an exact release date will be announced soon.