Photos of Montblanc's Watch 'e-Strap' Show Low-Resolution Display, Bulky Fit
Luxury watch maker Montblanc earlier this month announced the "e-Strap", an accessory band that will add notifications, music control, and other smartphone-connected functions to a traditional analog wristwatch, marking one of the first efforts by traditional watchmakers to offer smartphone integration as the Apple Watch's launch nears.
Alexander Linz of the Watch-Insider blog had the opportunity to examine the e-Strap first hand during a demonstration by Montblanc CEO Jerome Lambert that was held over the weekend in Geneva.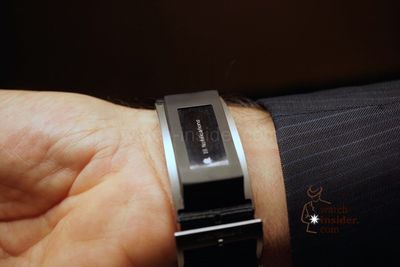 Detailed photos of the watch accessory reveal how it sits on a traditional watch band to rest firmly on the underside of the wrist. The display portion appears rather bulky, making discomfort a possible issue during daily use.


Other photos showcase the 0.9-inch monochrome touchscreen display which shares information such as incoming phone calls, upcoming appointments, and more. The display quality is not nearly as good as depicted in Montblanc's renderings of the strap, with text and icons appearing rather jagged due to the low 128 x 36 resolution.
Not a standalone device, the e-Strap will connect to an iOS or Android smartphone via an app that will allow users to customize the information being displayed on their wrists.


The e-Strap is expected to cost 250 euros and will be available as an optional accessory to select Timewalker Urban Speed watches. The e-Strap also may be compatible with other Timewalker watches that ship with 42-mm or 43-mm diameter cases.