Montblanc Unveils 'e-Strap' Band Accessory With iOS Integration for Analog Luxury Watches
With luxury watchmakers turning their attention to the smartwatch market ahead of the Apple Watch launch later this year, Montblanc is one of the first to announce specific plans. As noted by aBlogtoWatch, Montblanc's initial foray is an "e-Strap" accessory band for traditional watches that connects wirelessly to a smartphone.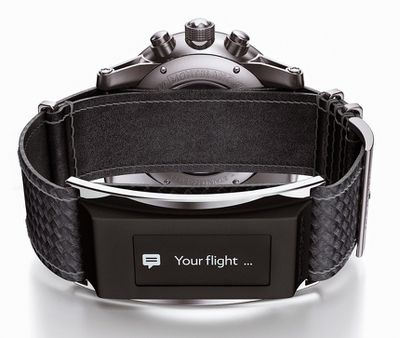 The Montblanc e-Strap incorporates a small 0.9-inch wide screen into a high-quality leather band that attaches to a traditional analog watch. The screen lays flat against the underside of the wrist, allowing users to receive notifications, count steps, and control music playback on a connected smartphone. The band connects to an iPhone or iPad via Bluetooth and offers up to five days of battery life.
How impressive as a connected wearable device will the e-Strap's electronic module be? It will have a 0.9 inch monochromatic OLED touchscreen display with a 128x36 pixel resolution. That isn't exactly industry changing, but this is more than just a mere notification device. Montblanc has made it clear that in addition to basic calls, texts, e-mails, calendars, social media, and reminder notifications, the e-Strap will function as an activity monitor/tracker with a pedometer and accelerometer to measure data that feeds into an included iPhone or Android phone app.
The e-Strap will reportedly sell separately for 250 Euros and will also be available initially as an option with select Timewalker Urban Speed watches. The band will, however, apparently be compatible with all 42-mm or 43-mm wide Timewalker watches.
Montblanc is one of several luxury watchmakers adding smartwatch-inspired products to their 2015 portfolios. Timex and Fossil reportedly are partnering with Qualcomm and Intel, respectively, on upcoming smartwatches, while Swiss watchmaker TAG Heuer is exploring partnerships and acquisitions in order to jumpstart its own smartwatch projects.