Apple's iBooks Platform Seeing 1 Million New Users Per Week After iOS 8
Apple's iBooks platform is seeing an average of a million new users per week after the company's decision to ship iOS 8 with the app pre-installed, according to Apple Director of iBooks Keith Moerer, who spoke today at the Digital Book World Conference.
Apple's decision to ship iOS 8 with several new apps pre-installed, including Podcasts and iBooks, was somewhat controversial because pre-installed default apps are unable to be deleted from a user's device. At the same time, though, default apps that come automatically installed introduce the content to a range of new people who might not have otherwise discovered it in the App Store.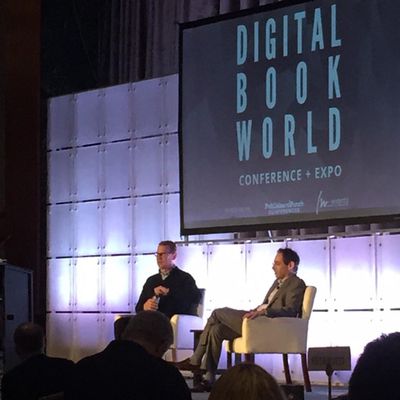 iBooks Director Keith Moerer at the Digital Book World Conference, image courtesy of David Lamb
Before iOS 8, the iBooks app had to be searched for and downloaded from the App Store, putting it on par with several other App Store-based e-books apps like Amazon's
Kindle
app for iOS. Pre-installing iBooks made it "so easy" for new users to try iBooks for the first time, said Moerer. Family Sharing, also new in iOS 8, helped to
improve
customer acquisition as well.
According to Moerer, iBooks consumption on phones is also on the rise since the launch of the larger-screened iPhone 6 and 6 Plus. "We are seeing more of our book sales starting to come from the phone," he told the audience at the conference. Moerer also highlighted the company's commitment to establishing relationships with creative professionals, including authors, and noted that indie publishing is one of iBooks' "biggest growth areas." Foreign publishing is also expanding, with Spanish-language publishing becoming a larger part of Apple's business in the United States and Japan seeing a lot of growth.
Moerer commented on the overall e-book market, saying that while Apple has noticed a slowdown in "other digital media businesses", the company is content with "our place within it" and still has many opportunities for growth through leveraging other content from iTunes, including movies and music.
Competing book stores were also a subject of discussion, with Moerer pointing out that Apple does not charge for publishers to promote books, unlike other stores like Amazon. "We accept no co-op payments, no pay for placement," he said. Apple is most focused on supporting artists big and small, according to a statement relayed by Gigaom:
Whether an author chooses to self-publish or work with a small or large publisher, I'm very proud that our business terms are the same. The same 30---70 split applies to a self-published author as well as an author published by the very biggest house. Because we're not a publisher ourselves, we work very closely with publishers and we view them as partners. We view what we do as an expansion of our support of print professionals on the hardware and software side and the way we run our other media businesses.
Apple's iBooks Store has gotten the company into hot water in the past, as Apple was found guilty of conspiring to fix the prices of electronic books. As a result, the company was subjected to a penalty of $450 million and forced submit to anti-trust monitoring.
iBooks has remained a major focus for the company despite its troubles, and along with making the app a default iOS app, Apple also introduced several new iBooks features in iOS 8 like an auto night mode, new organization, and more. OS X Mavericks also saw the introduction of a Mac-based iBooks app that allows users to read books on their Macs.