iOS 8 Beta 2 Tidbits: Permanent Podcasts App, QuickType Keyboard for iPad, and More
Apple today released the second beta of iOS 8, which brings a number of improvements, changes, and bug fixes to the beta software that was introduced on June 2.
iOS 8 beta 2 also includes several minor interface tweaks and modifications that make the beta feel both faster and more polished. We've gathered a list of the enhancements that have been bundled into the release below.
Podcasts: Following iOS 8 beta 2, the Podcasts app is a default iOS app that comes pre-installed on iOS devices. This means it can no longer be deleted.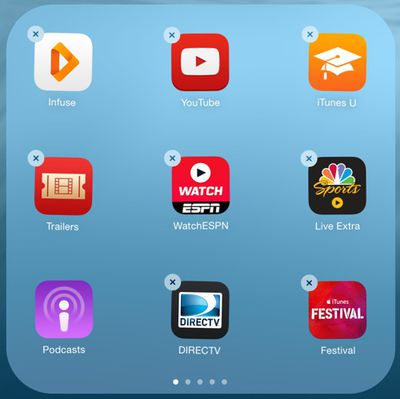 Safari: According to the release notes, Safari will now block ads from automatically redirecting to the App Store without user interaction. Safari also includes a new pinch to tab view.
App Store Purchases: Apps in the App Store's purchased tab are once again sorted by purchase date. In iOS 8 beta 1, they were sorted alphabetically. It's also possible to leave reviews in the App Store again, a feature unavailable in beta 1 due to a bug, and the App Store now displays Family Purchases.


QuickType Keyboard: Apple's QuickType keyboard is now available on the iPad as well as the iPhone, but does not appear to be available on the iPad 2.
Brightness: In beta 1, the Brightness toggle in the Settings menu under Wallpaper and Brightness was broken. It is now functional again.
Messages: Icons for the camera and the microphone in Messages are now gray rather than blue and there's a new setting to mark all messages read.


Settings: There's a new "Raise to Listen" setting for Messages.
Privacy: There's a new Home Data section within the Privacy menu of the Settings app.


iCloud Photos: When entering the Photos app, there's a new "iCloud Photos" popup that activates Apple's new iCloud Photos feature, replacing a user's existing Photo Stream settings.


Notifications: There's a new "Allow Notifications" setting available for each app, which works as a sort of global mute to let users to mute notifications from an app on an individual basis. Previously, there was only an option to disallow apps from showing notifications in Notification Center.


Battery Usage by App: The Battery Usage by App menu in the Settings menu now includes a setting that lets users know how much battery their phones used when no coverage was available.


Handoff: According to several of our forum members, Handoff between iOS 8 and OS X Yosemite is now far more functional.
Additional features in iOS 8 beta 2 will be added here as they are discovered. Apple is likely to continue pushing regular updates to iOS 8, bringing minor performance boosts and changes ahead of the operating system's public release, which is expected to come in the fall. For more information on iOS 8's features, big and small, make sure to check out our roundups.