'CES Unveiled' Hints at 2015's Hottest Categories: Sensors, Cameras, and Wearables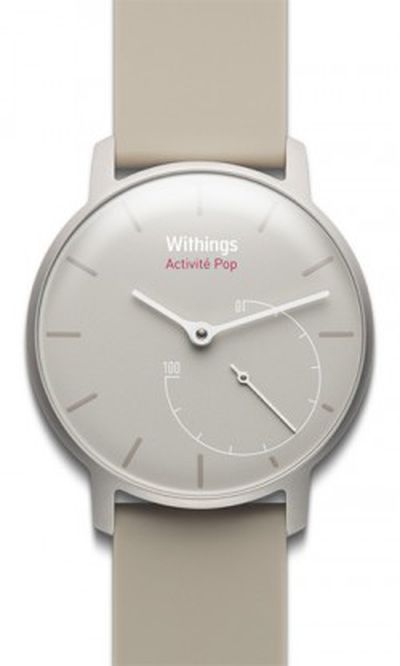 The Consumer Electronics Show doesn't officially kick off until Tuesday, but some of the craziest and most interesting products were already on display on Sunday at CES Unveiled, a media-focused pre-event that traditionally highlights many of the best products coming out at CES.
I was on-hand at CES Unveiled to represent MacRumors and managed to navigate through the madness of food and drink booths and throngs of press to get a look at some of the neatest products you can expect to see across 2015.
There were multiple different wearable devices on display, ranging from traditional activity trackers to Belty, a smart belt that expands and contracts to fit your waistline, but a couple of new options stood out. Withings' new Activité Pop, for example, is an analog-style smart watch that you'll actually want to wear on your wrist.
Though it looks like a traditional watch, the Activité Pop, like the first Activité watch, can track steps and sleep. It's also water resistant, so it's one of the few activity trackers that can be used while swimming, and its eight-month battery life means there's no need to hassle with charging on a daily basis. This new version is lightweight and feels great on the wrist, though the watch face itself is a bit thick, especially on small wrists like mine.
The first Activité watch was prohibitively expensive at $450, but the new Pop version is just $149, making it a viable competitor to existing offerings like the Jawbone UP and Fitbit for those who want activity tracking in a traditional-looking watch form.
I also had an opportunity to check out the Zensorium Being, a rather bulky wrist-worn wearable device that tracks heart rate, activity, and sleep, like many other trackers. The Being goes above and beyond existing activity trackers though, promising to track mood much like an old 80's-style mood ring.
There wasn't a working version available, but it supposedly measures mood using a combination of factors like heart rate and blood pressure, mapping it into "zones" that include Distress, Excited, Normal, and Calm. The Being's design wasn't the greatest (and it seems a bit too thick to be worn comfortably during sleep), but the long list of unique features made it one of the standout wearables at the show. Info on battery life was a bit nebulous, with two to three days promised, but if you're really into the mood tracking, you can pre-order today for $169.
Along with a slew of activity tracking options, CES Unveiled hinted at another trend that's going to be hot this year --- sensors on everything. There was a Connected Cycle that was hugely popular at the show, and there was even a company demoing some upcoming connected snowboard bindings that can analyze your snowboarding skills in real-time.

As a huge tea fan I was thrilled to see both a connected coffee maker and a connected tea maker
from Smarter
, both of which can have your morning cup of caffeine ready to go before you're even out of bed. The tea maker has been
around since 2013
, but the coffee maker is new to CES and syncs with several different fitness bands and is able to adjust the strength of your coffee based on sleeping data.
Perfect Bake was also on-hand to show off its newest product, a scale that connects to your smartphone to make sure every recipe you attempt comes out perfectly. Using the bowls that sit atop the scale, it measures each and every ingredient as its poured in to prevent any mistakes.
If you over pour the flour for a cookie recipe, for example, it'll adjust all the other ingredients to fix the mistake, and if you're short on an ingredient, it will modify the portion size. Only have a half a cup of chocolate chips? It'll tell you exactly how many cookies you can make. For its functionality, the Perfect Bake is surprisingly affordable (just $69.99) and its ability to adjust on the fly makes it useful for beginning cooks and seasoned bakers alike.
Wearable devices and smartphone-connected sensor-laden products are two of the major product categories we'll see at CES this year, and if CES Unveiled is any indication, a third major category may be cameras.

Netatmo showed off its newest product, a
home monitoring camera
called "Welcome," which touts facial recognition as its defining feature. I met up with Netatmo and got a close look at the "Welcome," which is a slim, sleek aluminum cylinder that has a lot of features to offer. It's smaller than a Pringles can, has a high-quality design, and looks like it will fit nicely into any decor. This isn't a hidden camera though --- it's very clearly a camera and has a red light when its recording, so it can't be used secretly.
Welcome can monitor everyone who comes into a house, keeping track of spouses and kids or alerting you when an intruder enters by scanning each face and capturing photos/videos. It can even track movement (not faces) at night with its infrared LED and it works with Welcome Tags (to be sold separately) that can be attached to doors and windows to detect any movement.
Welcome was designed with a huge focus on privacy, and unlike options like Dropcam that store video in the cloud, all content is stored locally on an SD card in the device. There are backup photos sent to the cloud in case an intruder enters the house, but no video is recorded to the cloud. Netatmo doesn't have details on pricing for Welcome right now, but plans to ship in Q2 2015.


Another camera based product that looked intriguing was the new Narrative Clip 2, a wearable camera that's designed to capture a photo every minute of every day to allow its users to capture moments from their daily lives that they might not think to photograph.
I've always been a fan of Narrative, which is just a tiny little disk that you can clip onto a shirt or collar, and this new version is much better than the previous iteration. It's got an 8-megapixel camera, better light sensitivity, and a wider angle. It will upload all of your photos through a wi-fi/Bluetooth connection, and it has new interchangeable clips. It's pricy at $199, but for people who are looking to capture snapshots of their daily lives (imagine it on a trip!), it's invaluable. Narrative 2 will ship later this year.
CES Unveiled was overwhelming with the sheer number of people and products available to see, but a few other things that caught my eye were the iSketchnote, the SleepPhones, and the MyBrain.

Watching demos of the
iSketchnote
was fun, and it's definitely one of the products I'll be picking up myself. Basically, you stick a notepad on the Slate, a Bluetooth-connected writing platform, and then sketch or write as you normally would with an included ink pen. Everything you write or draw is transferred to the iPad, where it can be further edited or shared. It'll be shipping in early 2015
for $179
.
SleepPhones have apparently been around for a while, but the company is introducing a new version that uses inductive charging in April of 2015. The SleepPhones are essentially ultra thin headphones embedded into a soft headband so they can be worn while sleeping. I got a chance to try them on and could barely feel the hardware embedded inside. As someone who regularly wears earbuds in bed, I thought these were a much more comfortable alternative.
Finally, the last crazy/interesting product I got to check out at CES Unveiled was the Melomind from MyBrain Technologies, a super goofy-looking EEG headband that aims to reduce stress. According to the developers, it measures electric activity in the wearer's brain and connects to an accompanying app to play soothing music. This headset didn't look particularly comfortable and it's pricy at $299, but it could be a promising solution for sufferers of stress.
Make sure to keep an eye on the MacRumors iOS and Mac blogs over the course of the next few days, as we'll be sharing all of the cool products that we come across at CES this year.