CES 2015: Bandstand Dock Leads Accessory Makers' Apple Watch Push
The Apple Watch may not be launching for a few more months, but that hasn't stopped accessory makers from showing off their ideas at CES this week. iOS device stand and accessory maker Standzout is one of the early entrants, announcing its upcoming Bandstand docking station and showing off prototypes of the accessory at CES. The new Bandstand dock was designed from the ground up for Apple's upcoming Watch, offering both a watch stand and charging functionality in a single dock.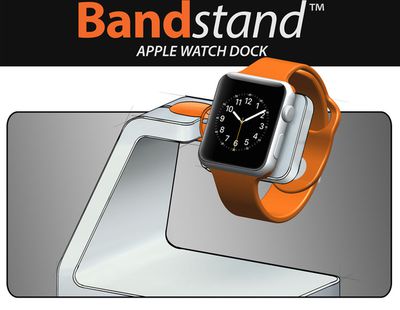 The new Bandstand dock features a pivoting platform that will securely hold the Watch and allow users to adjust the angle of the display for optimal viewing. More than just a holder, the Bandstand will support induction charging of the Apple Watch using Apple's upcoming cable while also providing a pair of USB ports for charging additional devices. Though the device is on display at CES, pricing and availability details are not yet available as the company will need to finalize the design to ensure compatibility as more information on Apple Watch becomes available.


The Bandstand claims to be the "first great Apple Watch accessory", but it certainly won't be the last. With Apple Watch's launch approaching, other vendors are no doubt preparing their offerings and will be making announcements in the coming weeks and months.