U.S. Music Fans Continue Shift to Streaming Services as Apple Readies Beats Revamp
Paid music downloads, which have dominated the digital music market for years thanks in large part to Apple's iTunes Store, showed accelerating weakness in the United States last year as music streaming services like Spotify and a resurgence of vinyl record sales exploded in popularity.
According to Nielsen SoundScan (via The Wall Street Journal), streaming music grew a remarkable 54 percent in 2014, moving from 106 billion songs in 2013 to 164 billion in 2014. That growth contrasts with traditional song downloads that dropped off significantly from 2013. Paid downloads for full music albums declined 9 percent in 2014, with individual song downloads seeing an even larger 12 percent drop-off. Overall, according to SoundScan, Americans bought 257 million albums in 2014, 106.5 million of which were downloaded digitally.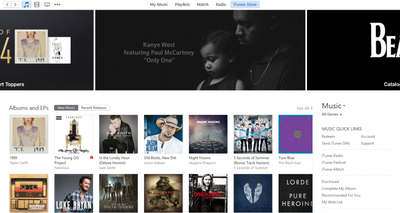 Amid the digital shift from individual downloads to streaming, an older technology also saw a resurgence in 2014 with vinyl record sales at their highest levels since SoundScan began tracking music sales in 1991. Nielsen's tracking shows 9.2 million vinyl records sold, representing a 52 percent overall increase in sales from 2013.
With lackluster overall digital music downloads mirroring a similar drop in iTunes Store sales, Apple has been looking at ways to improve its positioning in the music market. Apple's initial effort with iTunes Radio to offer a Pandora-like experience that also seeks to drive iTunes Store purchases has had a less-than-stellar reception with availability in only the United States and Australia. That weak entry likely spurred Apple to pursue last year's acquisition of Beats Music for a full-fledged subscription streaming service.
Recent reports have indicated that Apple will be pursuing a major revamp of Beats early this year that may see prominent integration of the paid streaming service into iOS and iTunes, perhaps including a rebranding under the iTunes name.