iTunes Digital Music Sales Fall 13 Percent as Apple Prepares Beats Music Refresh
Apple's digital music sales continue to spiral downward, falling more than 13 percent worldwide thus far in 2014, reports The Wall Street Journal. Last year, digital music sales dropped for the first time since iTunes opened in 2003, falling 5.7 percent year-over-year.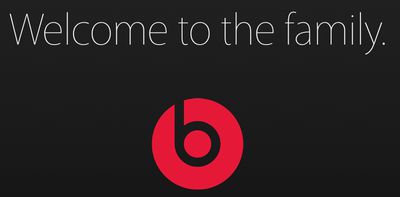 This continued decline is likely one of the reasons behind Apple's $3 billion acquisition of Beats Electronics and Beats Music earlier this year. Apple may be hoping to offset this drop in digital music revenue with increased subscription revenue from Beats Music.
The plummeting download numbers help illustrate why Apple bought the $10-a-month subscription streaming service Beats Music earlier this year, as part of its $3 billion acquisition that included headphone maker Beats Electronics. Apple is rebuilding Beats Music and plans to relaunch it next year as part of iTunes, according to a person familiar with the matter.
To attract a broader customer base, Apple is rumored to be revamping Beats Music with an expected relaunch of the service slated for next year. The Cupertino company also is pushing for an industry-leading $5 monthly subscription cost that may increase the number of subscribers willing to pay for a premium service.
Apple is not new to the streaming music business, having launched iTunes Radio last year alongside iOS 7. The Pandora-like service has reportedly failed to achieve its goals of spurring listeners to purchase tracks from the iTunes Store despite being bundled on millions of phones in its available regions, and has yet to expand beyond the United States and Australia.