Microsoft Launches Site to Lure MacBook Switchers to Surface Pro 3
Microsoft is hoping to lure MacBook users to its Surface Pro 3 with a new site that's aimed at users who are considering switching from an Apple laptop to one of Microsoft's surface tablets.
Launched over the weekend, Microsoft's "Making the Switch" site includes sections on Windows basics, questions and answers on transitioning from a MacBook to a Surface Pro 3, content migration, and using a Surface Pro 3 with an iPhone, iCloud, and iTunes.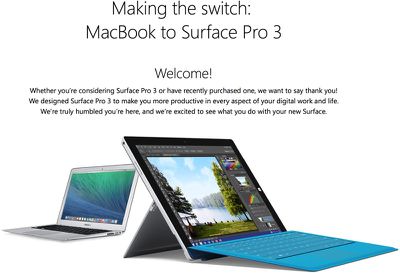 In the section dedicated to current MacBook users, Microsoft includes several tips on how to perform basic functions on a Surface Pro 3, like right clicking, searching, accessing system settings, installing applications, and more. The site also covers viruses and replacements for FaceTime and iMessage, with Microsoft recommending Skype over the Apple options.


Microsoft often tries to attract iPad and MacBook users to its line of Surface tablets, and has a history of publishing ads that compare its products to Apple products. In 2013 and early 2014, Microsoft focused heavily on anti-iPad ads that compared the tablet to the Surface 2, but after the May launch of the more powerful 12-inch Surface Pro 3, the company moved on and began targeting Apple's MacBook.
Most recently, Microsoft launched a November "Winter Wonderland" holiday ad that highlighted the Surface Pro 3's versatility compared to the MacBook Air, pointing out the tablet's kickstand and touch screen. Microsoft has run quite a few
anti-MacBook ads
over the course of 2014, featuring the Surface Pro 3's abilities to function as a full-on notebook computer, with the tagline "The tablet that can replace your laptop."