Apple Gifts Employees Custom Incase Backpacks for the Holidays
Each year, Apple provides its employees with an exclusive Apple-branded holiday gift to thank them for their contributions to the company and to celebrate the holidays.
This year, Apple employees received an exclusive black Apple-branded Incase backpack that's similar to the Incase Staple Backpack. Incase's Staple Backpack, which has a slot for a MacBook along with several different pockets for accessories, typically retails for $59.99. Apple distributed the backpacks with an accompanying poem.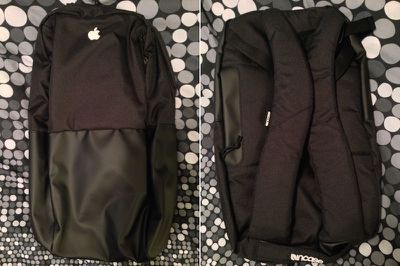 This is our gift to you.
But it can never compare to what you've given.

What does it take to give a gift?
It takes thoughtfulness. Compassion.
And sometimes, sacrifice of your time,
your talent, and your heart,

These are the gifts you give:
kindness, knowledge, humor, and patience.
You give them when you cover for a teammate,
so they can go on a much-deserved break.
When you send an email recognizing a job
well done. Or when you grab an extra coffee
for a friend before you clock in.

You give these gifts whether it's the beginning
of the season, or the end of a very long day.
You do it over, and over, and over again.

Amazing products are designed in Cupertino.
Amazing moments are made by you.
These moments are your gift this
holiday season -- to your customers,
to your team, and to the world.

Thank you.
As noted by 9to5Mac one of the Incase backpacks gifted to an Apple employee has already been listed on eBay and purchased for a buyout price of $99.99. In past years, Apple employees have received blankets, water bottles, hoodies, free apps, and more.