Microsoft's Expansion on iOS Continues With New MSN-Branded Apps
Microsoft today released a suite of five consumer apps under the MSN brand, bringing news, health, and other previously Windows Phone-exclusive apps from the Bing team to the iOS platform (via ZDNet). This launch follows the recent expansion of Microsoft's Office for iOS suite to the iPhone that produced standalone versions of Word, Excel, and PowerPoint to Apple's smartphone devices.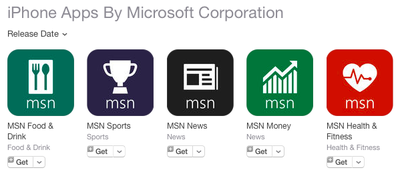 The suite of MSN apps include MSN News [Direct Link], MSN Sports [Direct Link], MSN Food & Drink [Direct Link], MSN Money [Direct Link] and MSN Health & Fitness [Direct Link], which integrates with Apple's Health app and connects to MSN Health & Fitness on the web. The new MSN apps are available for free and downloadable now from the iOS App Store. Android versions are also being made available on Google Play and the Amazon Appstore.
The push to bring these apps to iOS and other platforms like Android is part of larger initiative at Microsoft to drive the adoption of the company's desktop and cloud services by making its mobile apps available across a variety of platforms. This new direction is being spearheaded by Microsoft CEO Satya Nadella, who replaced long-time Microsoft chief Steve Ballmer earlier this year.