Apple Online Store Now Accepting PayPal Payments
Apple's online stores in the United States and the United Kingdom have begun accepting PayPal payments, reports Re/code. PayPal was previously available as a payment option in iTunes and the App Store, but it is now also accepted for product purchases made at Apple.com.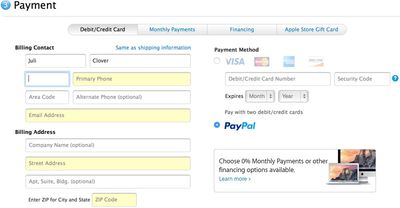 Payments with PayPal can be made as of today from the online Apple Store by choosing the PayPal option when checking out. PayPal is not yet offered as a payment method in the Apple Store app, and it is unclear if it will be added in the future.
Along with accepting PayPal payments, Apple will also promote PayPal Credit payment methods, letting Apple online shoppers pay for items over $250 with monthly payments over the course of 18 months with no interest.


Now that Apple offers a PayPal competitor with Apple Pay, the two companies have had some minor disputes. Back in September, PayPal attacked Apple during the iCloud hacking that saw several celebrity accounts breached. Apple and PayPal were initially in talks to partner up for Apple Pay, but that deal may have soured due to a PayPal/Samsung deal that saw PayPal accepting payments authorized with the Samsung Galaxy S5 fingerprint sensor.