Apple, Paypal Talks Over Apple Pay Soured Due to Samsung Deal
Apple and PayPal were in talks that would potentially have seen PayPal becoming a "preferred payment process" for Apple Pay, reports Bank Innovation, but those talks ended abruptly after PayPal inked a deal with Samsung to allow users to make PayPal payments with the Galaxy S5's fingerprint sensor.
Apple was reportedly so annoyed with the partnership between the two companies that it ended talks with PayPal and even went so far as to exclude PayPal from Apple Pay all together, not listing it as an acceptable payment platform in its developer documentation.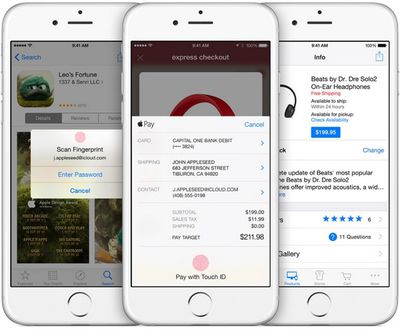 But while these talks were going on, PayPal went ahead and partnered with Samsung on the Galaxy S5 fingerprint scanner, a move that was reportedly forced onto PayPal by eBay CEO John Donahoe. PayPal's now-former president David Marcus was purportedly categorically against the Samsung deal, knowing that it would jeopardize PayPal's relationship with Apple. Donahoe won the day, however.
Apple and PayPal appear to be in somewhat of a dispute following the introduction of Apple Pay and PayPal's exclusion, with the latter company recently launching an ad campaign that subtly attacks Apple and Apple Pay.
In the advertisement, PayPal alluded to the recent hacking of celebrity iCloud accounts and suggested PayPal was the safer platform for transferring money. Without a deal between the two companies, PayPal is facing significant competition from Apple Pay.
In addition to allowing users to make purchases in retail stores with their phones, Apple Pay also lets users buy items in support apps using a debit or credit card connected with an iTunes account. PayPal works in a very similar way, letting users attach a credit or debit card and then make purchases through the service, alleviating the need to enter credit card details.
Apple has plans to launch Apple Pay in the coming weeks, through an update to iOS 8.