Early Apple Employee Bill Fernandez Shares Details on Steve Jobs, Creation of the Apple II, and More
Steve Jobs and Steve Wozniak are widely recognized as the major driving forces behind the creation of Apple computer, but there were also several other key employees in the early years who helped establish what is now one of the most valuable companies in the world.
TechRepublic has published an in-depth profile and interview with Bill Fernandez, who was Apple's first employee when the company was incorporated in 1977. Fernandez, who helped build the first Apple I and Apple II computers and is credited with introducing Jobs and Wozniak, shares some details on working with a young Steve Jobs, the early days of Apple, and more in the piece.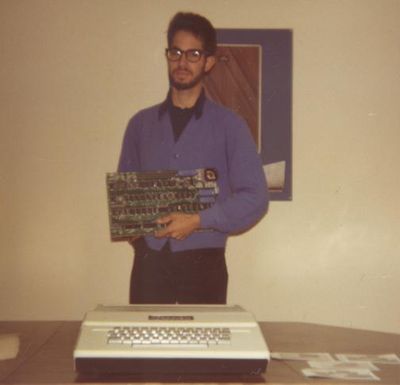 Fernandez, who grew up in the heart of Silicon Valley, went to middle school with Steve Jobs, who he described as "nerdy, socially inept, and intellectual," qualities that led to a quick friendship.
We both also were not at all interested in the superficial bases upon which the other kids were basing their relationships, and we had no particular interest in living shallow lives to be accepted. So we didn't have many friends."
Jobs reportedly spent quite a bit of time over at Fernandez's house, which his mother had decorated in a "meticulous Japanese style" that Fernandez credits as an early influence on Jobs' interest in minimalist design.
Fernandez was also a close friend of Steve Wozniak and introduced him to Steve Jobs, which led to the famous partnership between the two. After Jobs and Wozniak formed Apple, they hired Fernandez as an electronic technician and he became the first official full-time employee.
According to Fernandez, he drew the first completed schematic of the working Apple II after reverse engineering Wozniak's design to standardize it for production. The schematic went on to be used to build the Apple II, making history.
"When Woz designed something, most of the design was in his head," said Fernandez. "The only documentation he needed was a few pages of notes and sketches to remind him of the overall architecture and any tricky parts. What the company needed was a complete schematic showing all the components and exactly how they were wired together."
As the first Apple computers grew in popularity, the company began hiring more employees and started inching its way towards an IPO. Despite his position as one of the early employees, Fernandez, as a technician, was not able to advance in the company and wasn't offered stock options. "There was no growth path for me," he said, stating that he became bored and dissatisfied with the work.
With no prospects for advancement, Fernandez left Apple just 18 months after he started working for the company. Fernandez later returned as a member of the technical staff after spending some time in Japan, going on to work on the first Macintosh. Though he was never officially awarded stock, Wozniak gave out shares of his own stock to many early employees, including Fernandez, Chris Espinosa, and Daniel Kottke.
Bill Fernandez's full interview, which goes into far more detail about the early days of Apple and his life after leaving the company, can be read over at TechRepublic.