Apple in Full Support of Naming Alabama Anti-Discrimination Bill After Tim Cook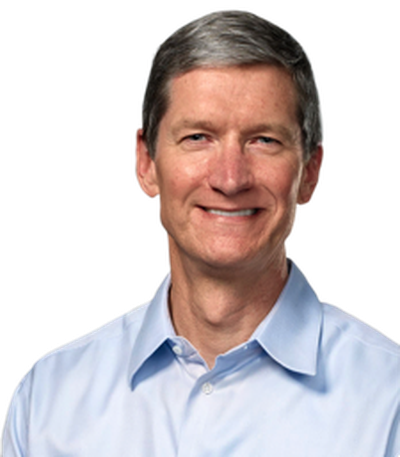 Alabama Representative Patricia Todd is introducing a new anti-discrimination bill that will share a name with Apple CEO Tim Cook. Called the Tim Cook Economic Development Act, the forthcoming bill aims to put an end to work-place discrimination based on sexual orientation.
Todd was inspired to name the bill in honor of Tim Cook after he condemned discrimination against LGBT employees in Alabama in October after being inducted into the Alabama Academy of Honor. "As a state, we took too long to step toward equality," Cook said during his acceptance speech. "We were too slow on equality for African-Americans. We were too slow on interracial marriage, and we are still too slow on equality for the LGBT community."
Just days after giving that speech in Alabama, Tim Cook came out as gay himself in an inspiring letter published by Bloomberg Businessweek. In the announcement, Cook said that publicly sharing his sexuality was done in an effort to "bring comfort to anyone who feels alone" and to "inspire people who insist on their equality."
Earlier this week, a report from BuzzFeed suggested Apple was initially hesitant to have Tim Cook's name associated with the bill. Todd originally announced her plan to add Tim Cook's moniker to the act just days after he came out as gay, but after a phone call from an Apple employee who "expressed concern" over the usage of Cook's name, she agreed not to use the Apple CEO's name after all.
"I did get a call from Apple asking me not to name it the Tim Cook bill," she told BuzzFeed News. "They don't want their corporation tied up in the political battle. I understand where they are coming from. I quickly said I would not name it after him."
After BuzzFeed published details on Todd's conversation with Apple, the company reversed course and released a statement saying Cook was "honored" to hear about the bill being named after him.

Tim was honored to hear that State Rep. Todd wanted to name an antidiscrimination bill after him, and we're sorry if there was any miscommunication about it," Apple spokesperson Kristin Huguet wrote in an email. "We have a long history of support for LGBT rights and we hope every state will embrace workplace equality for all.
Todd also reportedly received a call from Apple's legal head Bruce Sewell, who "apologized profusely" and said there had been an Apple representative trying to protect the company from controversy. He went on to tell Todd "I'm here to assure you we support this 100 percent," and he said Cook was glad to see his speech in Alabama had inspired action.
Even before coming out as gay, Tim Cook has had a long history of supporting equality. In 2013, he lectured on equality at his alma mater Auburn University, and during that same year, both he and Apple publicly supported the Employment Nondiscrimination Act and released a statement in support of Supreme Court gay marriage rulings. Earlier this year, Cook and Apple marched in support of the LGBT community during the 44th annual Pride parade in San Francisco, and the company has a dedicated section about diversity on its website highlighting its deep commitment to equality and human rights.
Note: Due to the political nature of the discussion regarding this topic, the discussion thread is located in our Politics, Religion, Social Issues forum. All forum members and site visitors are welcome to read and follow the thread, but posting is limited to forum members with at least 100 posts.