Steve Jobs' Testimony Expected to Play Major Role in iPod Antitrust Lawsuit
Apple this week is scheduled to appear in court and face accusations that it deliberately crippled competing music services and players in an iPod class action lawsuit from 2005, reports The New York Times. The trial will feature testimony from Steve Jobs, whose emails and a videotaped deposition taken before his death will play an important part in the plaintiffs' case.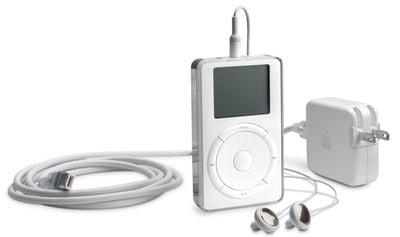 The complaint focuses on Apple's older iPod models, which only supported music purchased on iTunes and songs downloaded from CDs. Also being disputed is Apple's FairPlay system of encoding purchased music, which limited music playback to the iPod and not competing MP3 players. In the suit, consumers claim Apple violated antitrust law by deliberately limiting interoperability with competitors, while exclusively promoting its products and services.
The email testimony is expected to paint Steve Jobs as an aggressive businessman who worked hard to ensure the success of the iPod and iTunes. This success often came at the expense of smaller competitors, which were not allowed to connect to Apple's popular iPod ecosystem. In one already released email, Jobs addresses Apple's lack of support for the-then upcoming MusicMatch music store.
"We need to make sure that when Music Match launches their download music store they cannot use iPod," he wrote. "Is this going to be an issue?"
Part of the case also involves Apple's interactions with RealNetworks, which devised a workaround in 2004 that allowed content from its music store to be played on the iPod. In an angry statement released to the media, Apple accused RealNetworks of hacking the iPod and threatened to disable this functionality in future iPod software updates.
To counteract Jobs' testimony, Apple is expected to argue that updates to the iPod and iTunes were designed to improve the platform for the consumer and not cripple competing devices. The company also likely will point out that the price of the iPod has gone down over the years, despite Apple's alleged monopolistic behavior.