Apple Kicks Off Black Friday Sale With iTunes Gift Card Deals
Apple has just kicked off its deals for its one day Black Friday shopping event in the United States, and as previously announced, the company is offering special Product (RED)-branded iTunes gift cards with the purchase of an iPhone, iPad, Mac, iPod, Apple TV, or Beats by Dr. Dre headphones.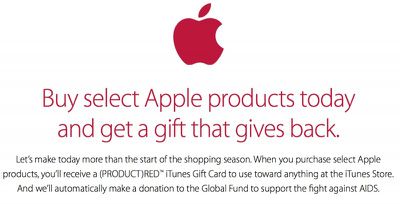 Gift card amounts for products vary and include $100 on select Macs, $50 on iPhones (6, 6 Plus, 5s, 5c), $50 on qualifying iPads, and $25 each on qualifying Apple TV, iPods, and Beats hardware, as noted below:
- iPhone ($50): iPhone 6 Plus, iPhone 6, iPhone 5s, iPhone 5c
- iPad ($50): iPad Air 2, iPad Air, iPad mini 3, iPad mini 2, iPad mini
- Mac ($100): iMac, MacBook Pro, MacBook Air, Retina iMac, Retina MacBook Pro
- iPod ($25): iPod touch, iPod nano
- Apple TV ($25)
- Beats by Dr. Dre ($25): headphones and speakers
Apple's (RED) Black Friday shopping promotion will last for a single day and the deals are available both in-store and online. Along with (RED) gift cards, Apple also plans to donate a portion of retail sales on Friday, November 28 and Monday, December 1 to the Global Fund to fight AIDS.
Alongside Apple, many other retailers are offering significant discounts on Apple products and accessories. While some of the deals began yesterday ahead of Black Friday, many of the discounts are still available and will be valid through the end of the day.
Best Buy and MacMall are offering significant discounts on a range of different Macs, with prices up to $200 off, and Best Buy is also discounting its entire iPad stock by up to $100.
Target is offering gift cards up to $140 on the iPad Air 2, iPad Air, iPad mini 2, and iPad mini 3, while Sam's Club has the best deal on the iPhone 6, offering it for $100 off. Online only stores are also offering deals, with Twelve South, for example, discounting several products and Speck offering 25 percent off many of its iPhone cases.
Following in the footsteps of retailers, app developers are discounting their apps in the iOS and Mac App Stores, and a list of popular discounted apps can be found at our sister site AppShopper.
A full list of all the Black Friday deals on Apple products and accessories is located in our comprehensive Black Friday roundup, which is being updated throughout the day with new deals.