Apple Details Special (RED) Shopping Day Gift Card Amounts for Black Friday
As part of its campaign announced late yesterday to support the upcoming World AIDS Day, Apple has also confirmed its annual Black Friday sale on November 28, which is branded this year as the (RED) Special Shopping Day Promo.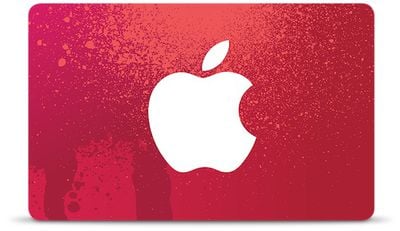 The U.S. promotion is offering (RED) gift cards to customers who purchase a qualifying product on Black Friday. Unlike last year, Apple is including the iPhone in the (RED) promotion this year, offering a $50 gift card for iPhone 6, iPhone 6 Plus, iPhone 5s, and iPhone 5c purchases except for those made with no money down through the online store.
Gift card amounts for other products vary and include $100 on select Macs, $50 on qualifying iPads, and $25 each on qualifying Apple TV, iPods, and Beats hardware. Some of these amounts are lower than last year's Black Friday sale, which provided $150 gift cards for Mac hardware, $75 for the iPad Air and $50 on iPods. This year's sale includes the following hardware and gift card values:
- iPhone ($50): iPhone 6 Plus, iPhone 6, iPhone 5s, iPhone 5c
- iPad ($50): iPad Air 2, iPad Air, iPad mini 3, iPad mini 2, iPad mini
- Mac ($100): iMac, MacBook Pro, MacBook Air, Retina iMac, Retina MacBook Pro
- iPod ($25): iPod touch, iPod nano
- Apple TV ($25)
- Beats by Dr. Dre ($25): headphones and speakers
The (RED) Special Shopping Day Promo begins on November 28 and lasts for one day or while supplies last. This Black Friday sale is part of Apple's recently announced World AIDS Day campaign, and in addition to the gift cards for customers on Friday, Apple will also donate a portion of its retail and online sales from Black Friday, November 28 and Monday, December 1 to the Global Fund to fight AIDS.