FTC Questioning Apple About Health Data Protection Policies
The United States Federal Trade Commission has met with Apple representatives several times over the past few months to discuss Apple's privacy practices covering health data collection, reports Reuters. The FTC is reportedly seeking assurance that Apple will prevent health data collected by the Apple Watch and other iOS devices via the Health app from being used without express user consent.
The two people, both familiar with the FTC's thinking, said Apple representatives have met on multiple occasions with agency officials in recent months, to stress that it will not sell its users' health data to third-party entities such as marketers or allow third-party developers to do so.
An Apple spokesperson told Reuters that the company "works closely with regulators around the world" to make its built-in data protections clear. "We've been very encouraged by their support," she said, adding that Apple's new health-focused initiative, HealthKit, had been designed "with privacy in mind."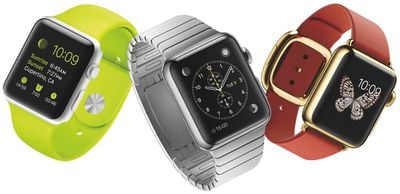 While the FTC declined to comment, Reuters does not believe that the government agency will launch a formal inquiry into Apple's data protection policies, though it is clearly taking a great interest in the Apple Watch, which collects data like heart rate and movement, and HealthKit, which allows Apple's Health app to aggregate health-related data from various apps and accessories.
Though it hasn't even hit the market, other government officials have also taken an interest in the Apple Watch. In September, Connecticut Attorney General George Jepsen sent a letter to Apple CEO Tim Cook asking for information on what data Apple plans to collect with the device, how the information will be stored, and what Apple's policies are for apps that access health information.
Earlier this year, ahead of the Apple Watch's debut, Apple released new guidelines for HealthKit APIs, which also applies to the Apple Watch. In the document, Apple explains that HealthKit information will not be stored in iCloud and that apps attempting to store health-related data in iCloud will be rejected. It also clearly states that apps will not be able to share data with third parties without express user consent.
In recent months, Apple has attempted to make its privacy policies more transparent, creating a comprehensive new privacy site that details all of its privacy practices. Tim Cook also spoke on privacy in a recent interview, stating that users "have a right to privacy" and that the company "tries not to collect data." "Our business is based on selling [products]," he said. "Our business is not based on having information about you. You are not our product."