Best Buy Discounting iPads, iPhones, Macs, and More for Black Friday
Major retailers are gearing up for the upcoming holiday shopping season, which officially kicks off on the post-Thanksgiving shopping day of Black Friday. Following leaked Black Friday sales flyers from both Sam's Club and Target, Best Buy today published its door buster deals ahead of the November 28 shopping holiday.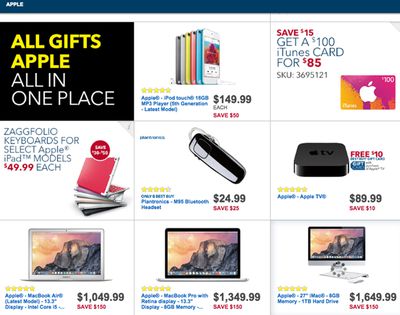 Similar to Target, Best Buy is discounting all iPad Air 2 models, with prices starting at $399 for the 16GB WiFi-only version. While Target is offering a $140 gift card, Best Buy is offering a more straightforward but smaller $100 discount off the purchase price of the device. Best Buy also is slashing the price of the iPad mini 3 by $75, lowering the cost of Apple's latest tablet to $324.99 for the base 16GB WiFi model.
Customers looking for Mac hardware can save up to $200 on select MacBook Pro, Retina MacBook Pro, MacBook Air and non-retina iMac models. Other sale items include the 16GB iPhone 6, which is being sold for $100 with a new two-year customer agreement, the 5th generation iPod touch 16GB ($149), the Apple TV ($89), a $100 iTunes gift card ($85) and select third-party accessories.
Best Buy is opening its retail stores in the early morning hours on Black Friday, with times varying by region. Shoppers can visit Best Buy's Black Friday website to find the specific retail hours for their local stores. For additional Black Friday discounts, check out our Black Friday roundup, where we are aggregating published Black Friday deals on Apple products and related Apple accessories.