'Pangu' Jailbreak for iOS 8.x Now Available for Mac, Compatible with Newer Apple Devices
The Pangu development team today updated its jailbreak for iOS 8 and 8.1, bringing full support for the Mac. The update comes a week after the program saw an update for Windows that brought an automatic installation of Cydia and support for the English language.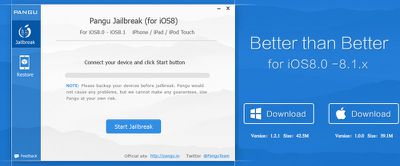 Pangu's jailbreak tool for iOS 8 is the first that is compatible with any device running iOS 8.0 to iOS 8.1, including newer devices such as the iPhone 6, iPhone 6 Plus, iPad Air 2, and iPad mini 3. The jailbreak method allows users to install content like themes, tweaks, and apps from other sources than the App Store. The Pangu development team recommends that users backup their iPhones, iPads, and iPod touches before using the tool, and notes that devices upgraded over-the-air may need to be restored before being jailbroken.
Cydia administrator Jay Freeman noted on his Twitter that the Pangu jailbreak is "stable enough" and said that developers on Cydia are now able to mark their own apps as iOS 8 compatible. Members on our forums are also maintaining an active list of which Cydia apps are compatible with iOS 8 and Pangu's jailbreak, and interested users should look there for more specific information.
Pangu can be downloaded for OS X and Windows as an untethered jailbreak, meaning that users only have to apply the method once. The release of the tool follows an announcement by the Electronic Frontier Foundation yesterday stating that a new petition was filed with the Librarian of Congress to extend an exemption that allows jailbreaking to be legal. The exemption was last renewed in 2012 and created by the U.S. Congress in 2010.