Apple has updated its Support website, adding the option for users to schedule Genius Bar appointments at their local Apple retail stores within the Support site. Previously, users had to navigate to their local Apple Store's page to make appointments.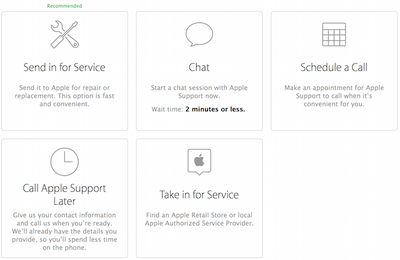 The new option, first spotted by 9to5Mac, is presented after a user defines what kind of problem they're having with a particular product. Users are then prompted to enter their location and are given a choice of what Apple Store they'd like to visit. However, the option isn't available for all issues. For example, users having battery issues with an iPad can make a Genius Bar reservation while users looking for help manually syncing their iPad to iTunes cannot.
In the last year, Apple has been overhauling its online support infrastructure, revamping its AppleCare website and chat interface. This is the latest move in the company's efforts to streamline its support and make it as simple as possible for customers to seek solutions for potential problems.