Popular Mac Photoshop alternative Pixelmator was today updated to version 3.3 "Limestone," introducing a redesigned interface, a repair tool extension, and support for several OS X Yosemite features including iCloud Drive and Handoff. The update also brings support for the new iMac with Retina 5K display.
Pixelmator's subtle redesign was inspired by OS X Yosemite, bringing a flatter look and translucency to many interface elements to help the editing app blend in better with Apple's newest Mac operating system.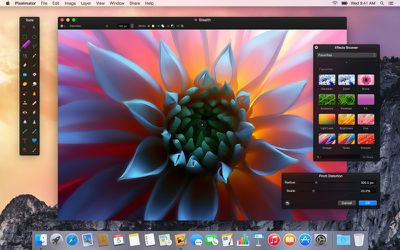 The app now includes full iCloud Drive support, making it easy to access images on any iOS device or Mac, and with Handoff, users can start editing an image on a Mac and instantly switch to Pixelmator's recently released iPad app with just a tap. There are also new Repair Tool Action Extensions, letting users edit images in Mail or TextEditor using Pixelmator tools.
Pixelmator 3.3 Limestone adds complete OS X Yosemite feature and technology support and embraces new Continuity features, like Handoff, so you can switch instantly between Mac and iPad apps, as well as iCloud Drive support, so you can safely store and access all your images on the device you have at that time.

Support for OS X Extensions offers an advanced-technology Repair Tool in apps like Mail or TextEdit. You can now easily remove objects and repair images right in the app you are using, without even having to open Pixelmator. Just add your picture to the message or document and use the extension tool to enhance it.
The 3.3 update is rolling out now and is available for free to all existing Pixelmator users. Pixelmator can be downloaded from the Mac App Store for $29.99. [Direct Link]