Apple Looking to Raise $3.5 Billion From Bond Sale Involving Euros [Updated]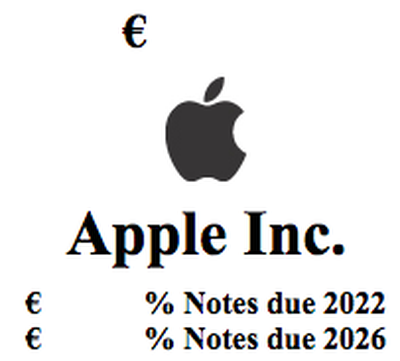 Following yesterday's report that Apple was preparing to hold a new bond sale that includes a component denominated in euros, the company today filed a prospectus with the Securities and Exchange Commission outlining its general plans, which include two chunks of debt with staggered maturities. The Wall Street Journal has more details on the prospectus and how its yields will be the lowest ever for 8-year and 12-year debt:
The iPhone maker is seeking to raise at least €1 billion ($1.2 billion) from two chunks of euro debt maturing in eight and 12 years.

Those would beat the lowest yields ever paid for euro-denominated, corporate bonds of these maturities, according to Dealogic data, reflecting solid confidence that the bonds represent a safe bet. Bankers managing the bond sale suggested the eight-year notes will give investors a yield of roughly 1.1% and the 12-year notes around 1.7%.

Apple spoke with investors on Monday about issuing bonds and will use the proceeds of the sale for general corporate purposes, including share buybacks and dividend payments.
This would mark first time that Apple would begin issuing bonds in euros, with Deutsche Bank and Goldman Sachs arranging the sale. This past April, Apple held a $12 billion bond sale, which followed a record $17 billion sale last year. Apple's bond offerings are a part of its expanded capital return program, which primarily involves a major stock buyback program and a quarterly dividend that aims to return more than $130 billion to shareholders by the end of 2015.
Update: The Wall Street Journal has revised its article to note Apple is actually looking to raise €2.8 billion ($3.5 billion) in the bond sale.