Starwood Begins First Phase of Mobile Phone Hotel Room Key Rollout With 10 Properties
Following an initial pilot program at a pair of its properties, hotel chain Starwood today announced the official launch of its SPG Keyless program that will allow hotel guests to use their iPhones or Android phones to check in for their stays and unlock their doors via Bluetooth. The system will go live this Wednesday in ten hotels around the world under Starwood's Aloft, Element, and W brands and expand to 150 hotel comprising 30,000 hotel room doors by the end of next year.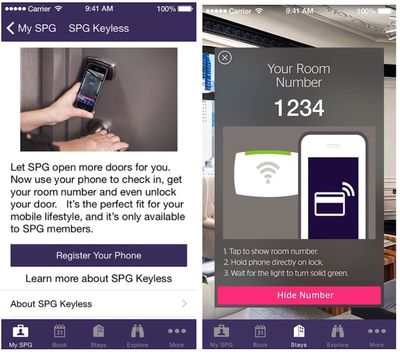 SPG Members must register their phone once through the SPG App and allow push notifications. After booking a reservation at a keyless hotel and approximately 24 hours before arrival, SPG members are invited to opt-in to SPG Keyless. Guests will receive a push notification noting that they are checked in and the SPG App will update with his/her room number and Bluetooth key when the room is ready. Upon arrival at the hotel, the guest can completely bypass the front desk (where available) and go directly to his/her room. After ensuring his/her Bluetooth is enabled, the guest simply opens the SPG App, holds the smartphone to the door lock, waits for the solid green light and enters the room.
Starwood's
SPG: Starwood Hotels & Resorts
app [
Direct Link
] has been updated today to support the iPhone check-in program, which is going live at hotels in Beijing, Cancun, Cupertino, Harlem, Doha, Hollywood, Hong Kong, New York City, and Singapore.
Starwood is not the only hotel chain working on phone-based room keys, with Hilton previously announcing its intentions for a similar program including check-in and room selection via app available in 4,000 hotels by the end of this year and and mobile phone room keys rolling out in 2015. And just today Hilton has reiterated those plans, announcing pilot testing of room keys early next year with an initial rollout to its Conrad brand soon after and expansion to additional brands coming in the summer.