Hilton to Adopt Digital Check-In, Smartphone-Based Room Keys Worldwide
Hilton Worldwide, a company that operates thousands of hotels around the globe, today announced plans to roll out new mobile-based check-in and room selection tools, as well as digital smartphone-based room keys.
Hilton guests will be able to select their rooms online using their smartphones, which will be able to display floor plans for each available room. Guests will also be able to check-in/check-out using their smartphones, as well as purchase upgrades and make special requests for item deliveries.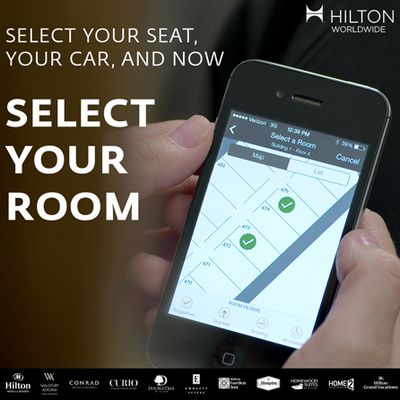 Room selection: At 6 a.m. the day before a booked stay, Hilton HHonors members can sign into their account via their mobile device, tablet or computer to check-in and choose their preferred room through floor plan maps or lists populated from the hotel's available inventory. Photos of rooms are also available to help with their selection. Hilton's digital lobby function is updated in real-time, so guests no longer have to wait until they are physically in the hotel lobby to be assigned a room.
While Hilton's new service is limited to check-ins and room selection at the current time, next year the hotel chain plans to allow guests to unlock their hotel rooms with their smartphones.
Hilton is planning to roll out its digital enhancements to select hotels during the summer and the fall, and by the end of 2014, smartphone-based check-ins and room selection will be available for more than 650,000 rooms across 4,000 hotels. The technology that allows smartphones to be used as room keys will begin rolling out in 2015, with wide availability in 2016.
Hilton is not the first hotel chain to begin allowing guests to enter their hotel rooms with their smartphones, as Starwood Hotels & Resorts implemented a pilot program to test the technology earlier this year. Hilton's eventual rollout will be much larger, however, and it also includes the aforementioned tools for personalized room selections and easy check-ins.