AT&T and Verizon today announced voice over LTE (VoLTE) interoperability plans that will allow Verizon Wireless and AT&T customers to make VoLTE to VoLTE calls between networks.
VoLTE is a feature that is designed to enable high-definition voice calls that significantly improve call quality.
Engineers from both companies are working through a full set of requirements, beginning with extensive testing in lab environments and then moving to field trials. This approach ensures customers will have a seamless experience making VoLTE HD Voice calls between networks and lays the foundation for interoperability of other Rich Communications Services (RCS) such as video calls, rich messaging, and more in the future.
Verizon introduced its Advanced Calling 1.0 services with VoLTE support back in September, shortly before the release of the iPhone 6. With VoLTE, Verizon customers are able to use simultaneous voice and data capabilities over a 4G LTE network for the first time.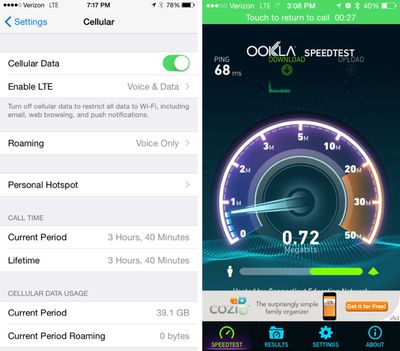 VoLTE in action on Verizon
AT&T is still in the process of rolling out VoLTE support to all markets, continuing to test the feature in a limited number of cities in Illinois, Wisconsin, Indiana, Minnesota, Georgia, and Texas.
VoLTE requires both built-in phone support, included in the iPhone 6 and the iPhone 6 Plus, and carrier participation. VoLTE interoperability between AT&T and Verizon is good news, as it is not currently possible to make VoLTE calls to outside carrier networks.
Both Verizon and AT&T state hope to establish similar deals with other carriers in the future as VoLTE continues to pick up traction.