On December 11th, a fully functional original Apple-1 Personal Computer will go up for auction, reports Reuters. The rare machine, which Steve Jobs sold out of his parents' garage in 1976 for $600, is expected to sell for over half a million dollars. This particular Apple-1 is the only documented machine to have been sold directly by Jobs himself.
Back in 1999, the computer was purchased by Bruce Waldack, an entrepreneur who had just sold his company DigitalNation. After Waldack's death in 2007, the Apple-1 was auctioned at a self-storage facility in Virginia, where Robert Luther purchased it, along with the original buyer's canceled check from 1976, knowing few details of its history.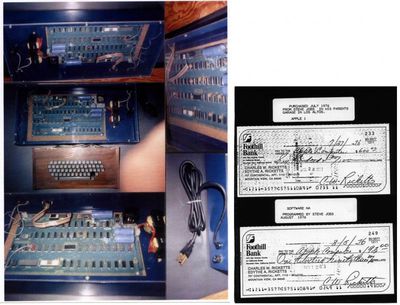 The computer will be sold alongside that original canceled check for $600 from July 27, 1976. The check was made out to Apple Computer by Charles Ricketts, who later labeled it as "Purchased July 1976 from Steve Jobs in his parents' garage in Los Altos." A second canceled check for $193 from August of 1976 reads "Software NA Programmed by Steve Jobs August 1976." These two canceled checks were used as evidence in convincing the city of Los Altos to designate the Jobs family home on Crist Drive eligible for a listing on the National Register of Historic Places.
The Apple-1 was tested by having an expert run the standard original software program, Microsoft BASIC, along with an original Apple-1 Star Trek game.
Just a few weeks ago, the Henry Ford Museum paid $905,000 for an original working Apple-1, more than doubling the pre-sale estimate of the computer. And just last year, German auction house Breker sold two Apple-1 computers, complete with their original boxes. One sold for $330,000, while the second doubled that price to $671,400 because of the inclusion of a letter written by Steve Jobs intended for the original owner. Of the few hundred originally produced, fewer than fifty Apple-1 computers are believed to still be around today.
(Photos via The Mac Geek)