Trent Reznor Working on 'Challenging' Music Delivery Project at Apple
Nine Inch Nails frontman Trent Reznor, who serves as Chief Creative Officer of Beats Music, became an Apple employee alongside Jimmy Iovine and Dr. Dre when Apple acquired Beats back in May.
In a new interview with Billboard, Reznor revealed that he joined the company because Apple was "interested in tapping his creative energy" and that he's currently working on designing a product related to music delivery for Apple. According to Reznor, no one has hit "the right formula" when it comes to streaming music.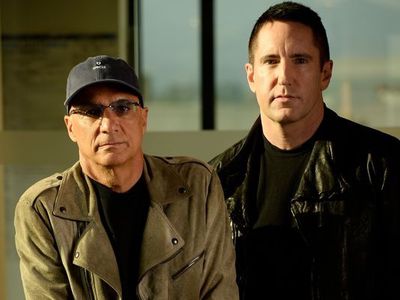 Beats Music co-founder Jimmy Iovine with Trent Reznor, image courtesy of
USA Today
"I am on the side of streaming music, and I think the right streaming service could solve everybody's problems," says Reznor, who along with Ross will participate in a keynote Q&A at the Billboard/Hollywood Reporter Film & TV Music Conference being held at Universal City's Globe Theater on Nov. 5. "Ownership is waning. Everybody is comfortable with the cloud -- your documents, who knows where they are? They are there when you need them. That idea that I've got my records on the shelf doesn't feel as important even to me as it used to. I just think we haven't quite hit the right formula yet."
Reznor says his role at Apple is an evolution of his Beats role and that Apple has him designing products for the company. While he declined to go into detail, he did say that he's doing "very creative work that's not directly making music," but is instead related to music delivery. His work, he says, is "challenging" and "could have a big enough impact that it's worth the effort."
Beats was bought by Apple, and they expressed direct interest in me designing some products with them. I can't go into details, but I feel like I'm in a unique position where I could be of benefit to them. That does mean some compromises in terms of how much brain power goes toward music and creating. This is very creative work that's not directly making music, but it's around music.
Rumors have suggested that Apple plans to completely revamp Beats Music, possibly rolling it into iTunes. A rebranding is planned, and new features and a lower price could be part of the Beats Music redesign. It's possible that Reznor, who says he's working on the streaming music side of things, is helping decide on the direction Apple's streaming music service will take. Apple may be planning to unveil its revamped music subscription service and new branding as early as February, ahead of the 2015 Grammy Awards.
Reznor's full interview, which also includes tidbits on his early life, his interest in movies, his work on Gone Girl, comments on U2's "Songs of Innocence" iTunes release, and more, can be read at Billboard.