New Version of Outlook for Mac Leaked in Screenshots, Release Date Still Unclear
Earlier this year, rumors suggested that Microsoft was preparing to launch a new version of Office for Mac in 2014, and now images of what is said to be a new version of Outlook have surfaced on Chinese site cnBeta [Google Translate], suggesting Microsoft is drawing closer to releasing updated Mac Office software.
Depicting "Outlook for Mac 16," the images show a new version of Outlook that's been updated with a new OS X Yosemite-style look, adopting translucent menu elements and a flatter overall design. The interface takes on a "simple, modern style," according to cnBeta, which is "more intuitive" and it includes support for Retina displays much like Office 2011 for Mac.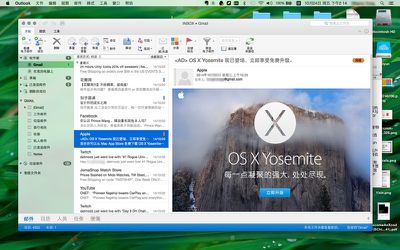 The design is said to be more unified with both the Windows version of Office and the iPad version, making it easier to switch between platforms. The new Office for Mac and Outlook for Mac are said to take advantage of cloud file sharing, allowing users to swap between devices and to collaborate on projects. It's also much simpler to share documents with an entire team and Outlook for Mac will integrate with OS X Yosemite's Notification Center.


Microsoft's last major Office for Mac release came in October of 2010, more than four years ago, and there's been little information about an updated version of the software since then.
A presentation given earlier this year by Thorsten Hübschen, Business Group Lead at Microsoft Germany, suggested that Microsoft would debut a new version of its Office productivity suite for the Mac in 2014, and a Microsoft representative later confirmed that employees were "hard at work" on the next version of Office for Mac.
But with this leaked version of Outlook reportedly carrying the version 16 label and Microsoft only nearing a public preview of Office 16 for Windows ahead of a launch next year, the company's plans are somewhat unclear. Mac versions of Office typically follow their Windows counterparts by only a few months, but it has been two years since the launch of Office 2013 for Windows (version 15) and a corresponding Mac version has yet to appear.