More Details on Next Version of Office for Mac Include Planned Launch in First Half of 2015
Following yesterday's leak of several screenshots from the next version of Microsoft's Outlook for Mac, Chinese site cnBeta now shares much more information [Google Translate] about the upcoming version of Microsoft's productivity suite for Mac.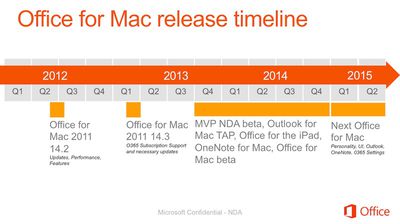 The report shares several presentation slides outlining some of the features of the next Office for Mac, as well as a timeline showing a planned release sometime in the first half of 2015. Microsoft team members had previously suggested the suite would launch this year.
The slides point to four key focus areas for Microsoft during the development cycle of the next Office for Mac, including a modernized look with full Retina support to match the OS X aesthetic while still aligning the experience with Office for Windows, improved connectivity with cloud services including Office 365 and SkyDrive (OneDrive), significant improvements to Outlook, and the addition of OneNote, which appeared as a standalone release earlier this year.

(Click for larger)
Taking a quick look at some of the changes to the core Office apps, the slides address the addition of the Quick Access Toolbar from the Windows version throughout the upcoming Mac suite, improved organization of tools and formatting, new support for Excel 2013 functions, Threaded Comments and improved Presenter View for PowerPoint, and enhanced Reply Comments and "Expand and Collapse" paragraph view toggles in Word.
Microsoft Office for Mac has not seen a major update since late 2010, when Office for Mac 2011 was released as a comparable version of Office 2010 for Windows. But while Windows saw the release of Office 2013 early last year, no corresponding version of Office for Mac has yet been released. The next version of Office for Windows is similarly expected in the spring of next year.