Twelve South today announced a new horizontal stand designed specifically for the new model of Mac Pro. Unlike most of Twelve South's product line, the BookArc for Mac Pro is made of a shinier chrome plate that offsets the deep black colors of the Mac Pro itself. The specially designed stand allows Mac Pros to be placed horizontally, saving vertical space in cabinets and on shelves. Earlier in the year Apple confirmed horizontal placement of the Mac Pro unit was safe and operable, under certain guidelines.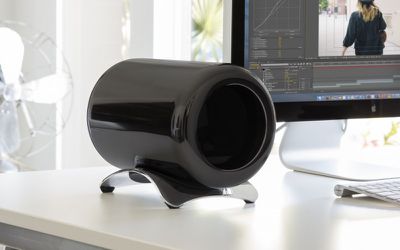 The beautiful, arc-shaped stand holds a Mac Pro horizontally, cutting the vertical height requirement in half. A lower height increases the number of places you can park the most powerful Mac available, including inside professional gear racks and studio shelves.

Is it safe to use a Mac Pro horizontally? Absolutely. It will perform exactly the same on its side as it will upright. In fact, the Apple Tech Note that refers to using a Mac Pro on its side was the inspiration for designing this curved metal stand. Historically, most stand-alone Macs were able to be used on their side or vertically. Twelve South now brings this flexible option to the newest Mac Pro with the BookArc for Mac Pro.
According to Twelve South, if placed inside a racked studio cabinet the Mac Pro on BookArc takes up only seven spaces against the fifteen it would occupy if placed vertically. Twelve South also sells BookArc for a wide variety of Apple products, including ones for MacBook Pro, MacBook Air, and nearly all lines of iPad, including the new iPad Air 2.
The BookArc for Mac Pro can be purchased today for $59.99 from Twelve South's official website.