'Continuity Activation Tool' Enables Handoff on Older Macs
With iOS 8 and OS X Yosemite, Apple introduced "Continuity," a set of features designed to allow for deeper integration between Macs and iOS devices. Unfortunately, some Continuity features are limited to Macs with Bluetooth 4.0, which leaves many older Macs unable to access the new features.
Additionally, even though the 2011 MacBook Air and 2011 Mac mini include Bluetooth 4.0, Apple has opted not to allow them to access Continuity features. Luckily, many resourceful members of the MacRumors forums have come up with solutions to allow them to enable Continuity on their older Macs, and discussion on our forums has led to the creation of a set of instructions and a Continuity Activation Tool that should get Continuity working on Macs unable to explicitly support the feature.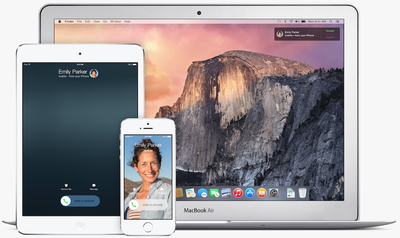 Created by Dokterdok (based on instructions compiled by UncleSchnitty) and available on Github, the Continuity Activation Tool is designed to activate Continuity by doing a compatibility check, creating backups of original System drivers, and disabling a Mac-model blacklist in the Bluetooth code that prevents Continuity from working on ineligible Macs. From there, it also whitelists Mac board-ids within the Wi-Fi code to get the feature working.
The tool can be downloaded as a zip file from Github and is installed by double clicking the app and following the instructions provided on the screen.
The Continuity Activation Tool will enable Continuity on the mid-2011 MacBook Air and the mid-2011 Mac mini with no additional hardware required, as both of those devices include Bluetooth 4.0. That means installing the tool should get Continuity up and running on those machines in just a few minutes.


On older Macs that do not come equipped with Bluetooth 4.0, new wireless cards will need to be installed, which makes it more difficult for casual users to get access to Continuity. USB dongles that provide Bluetooth 4.0 will not work with the Continuity Activation Tool, and a list of wireless cards that will provide Bluetooth 4.0 for each older Mac can be found on the MacRumors forums.
Both MacRumors forum members and Redditors have confirmed that this method is able to successfully enable Continuity on a variety of Macs, including the mid-2011 MacBook Air, the early 2011 MacBook Pro, and the mid-2011 Mac mini.
The Continuity Activation Tool appears to enable all Continuity features when used successfully, allowing older Macs to access Handoff, Instant Hotspot, SMS forwarding, and Mac phone calls without an issue. Some of these Continuity features may work already on older Macs as they use a variety of different connection methods ranging from Bluetooth to Wi-Fi, but the tool is confirmed to get Handoff and AirDrop, both of which require Bluetooth, to work.
Users should exercise caution when using the Continuity Activation Tool, as it moves around low level files and there's a possibility it could cause problems. A backup is recommended before attempting to install the tool.