Apple's New Retina iMacs Offer Slight Performance Boost Over Non-Retina iMacs
Apple's new Retina iMacs, released last Thursday, have been showing up in Geekbench benchmarks, giving us a look at how the new machine's performance compares to the non-Retina iMacs released in 2013 and still being sold.
A Geekbench 3 result for the base 3.5GHz Core i5 Retina iMac has been shared by John Poole of Primate Labs, displaying just slight performance increases over the 3.4GHz Core i5 model used in the late 2013 iMac. The 4.0GHz Core i7 Retina iMac has yet to be benchmarked, but should see performance that exceeds that of existing Core i7 iMacs due to its faster processor.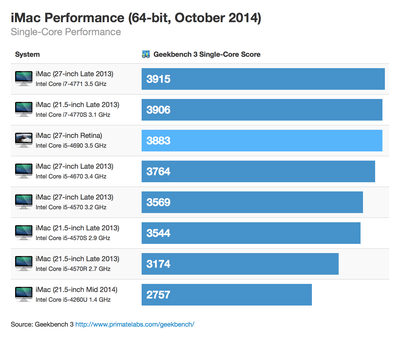 In both single-core and multi-core performance, the new Retina iMac offered moderately faster speeds, which is unsurprising as the machines continue to use Haswell processors that have been clocked slightly higher. More significant performance boosts in the iMac won't be seen until 2015, when Intel's Broadwell chips become available.


Compared to the 2013 Mac Pro lineup, the Retina iMac offers faster single-core performance, but all 2013 Mac Pro models beat out the iMac when it comes to multi-core performance. Results for the Core i7 iMacs are expected to be similar, but according to Poole, the higher-end Retina iMac may be faster than the 4-core Mac Pro.


Though the new iMac continues to use Haswell processors, its claim to fame is its Retina 5K display, which has an impressive resolution of 5120 x 2880, and its reasonable price, which starts at just $2,499. Apple's new Retina iMacs are available for purchase from the online Apple Store, with new orders shipping out in 5 to 7 days.