2014 Mac Mini Teardown Highlights Increased Difficulty For User Upgradability
iFixIt has conducted its teardown of the brand new Mac mini, finding that the new device is more difficult to open than previous models. They've also discovered that the RAM is soldered onto the machine, which was first discovered late last week.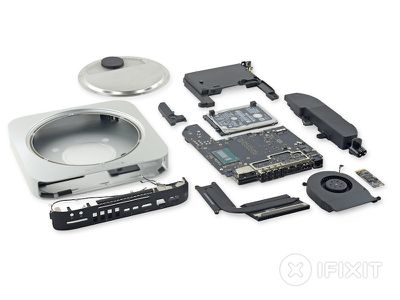 The team found that gaining entry into the new desktop is more difficult than previous models. Instead of a twistable bottom cover, the new Mac mini requires a plastic opening tool to pop off the cover. Underneath that is a new solid door that blocks easy access to the RAM and fan. The door uses what iFixIt calls "the smallest Torx Security screw" they've ever seen, requiring their tool design team to prototype a new screwdriver to open the desktop.
Inside, the Mac mini now sports a new AirPort card that connects straight to a PCIe slot rather than via a cable. Unlike past Mac minis, the new version only contains one SATA port. Previously, Mac mini users could upgrade their desktops with an extra hard drive. However, iFixIt notes that there is an extra socket that could potentially be used for a SSD blade via a PCIe cable. Oddly, the new Mac mini's power supply is identical to both the 2012 and 2011 models.
Finally, iFixIt gave the new Mac mini a repairability score of 6 out of 10, which is a worse score than the 2012 Mac mini's 8 out of 10. Although disassembly is straight forward, the team noted that the presence of Torx security screws and soldered on RAM made it more difficult to repair than previous models.