Apple today updated the Mac mini, introducing significant upgrades including Haswell processors, Intel HD 5000/Iris graphics, 802.11ac Wi-Fi, and PCIe-based flash storage options for the higher-end models.
Though Apple continues to offer three separate Mac mini options priced at $499, $699, and $999, it does not offer an OS X Server option as it has done in the past. Previously, the high-end Mac mini came with OS X Server and offered two 1TB hard drives for a total of 2TB of storage space.
Apple's new Mac minis max out at 1TB of storage space, with the high end model coming equipped with a 1TB Fusion Drive or up to 1TB of PCIe-based flash storage.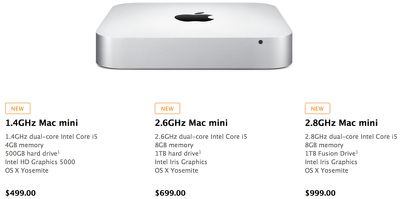 The Mac mini with Server configuration initially shipped with an OS X Server version of OS X, but later models came with the standard version of OS X and a separate OS X Server package. Later, Apple went on to release OS X Server in the App Store, essentially making the Mac mini with OS X Server obsolete.
While the new Mac minis can't be expanded to 2TB of storage space, they have two Thunderbolt two ports and four USB 3.0 ports, allowing for plenty of external storage options.
Apple's new Mac minis are available today from the company's online store, with prices starting at $499.