Apple's iPhone 6 and Apple Watch Event Fees Paid to De Anza College Top $1 Million
Apple's September iPhone 6 and Apple Watch event marked the first time the company held an event at the Flint Center on the campus of De Anza College since the introduction of the original iMac in 1998, and The Wall Street Journal reports the latest event resulted in Apple paying the college over $1 million for the privilege, including costs for campus disruption and security.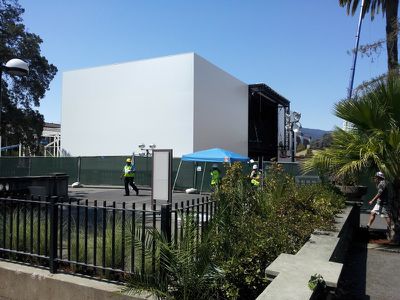 According to the records, the cost included a "disruption fee" to the college of $500,000, rental fees for campus buildings and around-the-clock security involving more than 35 officers from three departments. [...]

The agreement was dated Aug. 14, almost a month before its event, but it refers to a confidentiality agreement signed in June by the district and Apple.

The agreement specifies that confidentiality is a "key element," in order to achieve the "surprise and delight that characterize" Apple's marketing.

Apple agreed to pay $55,000 to use the college's Media and Learning Center, $92,000 for the Campus Center and nearly $10,000 for two parking lots. Apple was also responsible for restoring the balustrades surrounding the sunken garden where the temporary structure was located, at an estimated cost of $400,000 to $450,000.
Campus police, Santa Clara County sheriffs, and Mountain View police all contributed to the security detail that was on site for nearly a month leading up to the event.
Apple's next event takes place tomorrow, but will be a much smaller affair held in the Town Hall auditorium on the company's headquarters campus in Cupertino. The event kicks off at 10:00 AM Pacific Time, and the company is expected to unveil new iPads, introduce updated iMacs with a Retina display on at least the larger model, and offer a final look at OS X Yosemite before its public launch.