Development on email management app Mailbox for Mac began earlier this year, with the app entering a limited public beta test back in August. As of today, the app has entered an open beta testing phase, making it available to all users.
Mailbox for Mac is similar in design to Mailbox for iOS, offering a simple, clean interface that aims to help users reach "inbox zero." It includes all of the features of the iOS version, like easy controls to archive and delete emails, snooze functionality, and lists for organizational purposes.
The app also offers swipe gestures and several hotkeys to control specific email management tasks.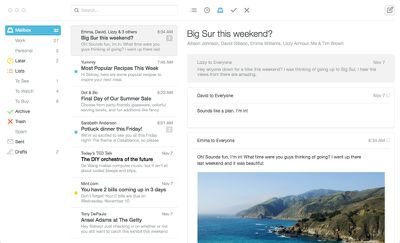 First introduced as an iOS app in 2013, Mailbox proved to be very popular, requiring a reservation system restricting access to a limited number of users for several weeks. Shortly after its release, Mailbox was acquired by file-sharing and storage service Dropbox, and the iOS version has seen several major updates since then.
Along with offering an open beta of the Mailbox app for Mac, Dropbox has also updated the Mailbox app for iOS to version 2.3.1, adding support for the iPhone 6 and the 6 Plus along with customizable swipes and push notification fixes.
The Mailbox for Mac beta can be downloaded for free from the Mailbox website. Mailbox for iOS can be downloaded from the App Store for free. [Direct Link]